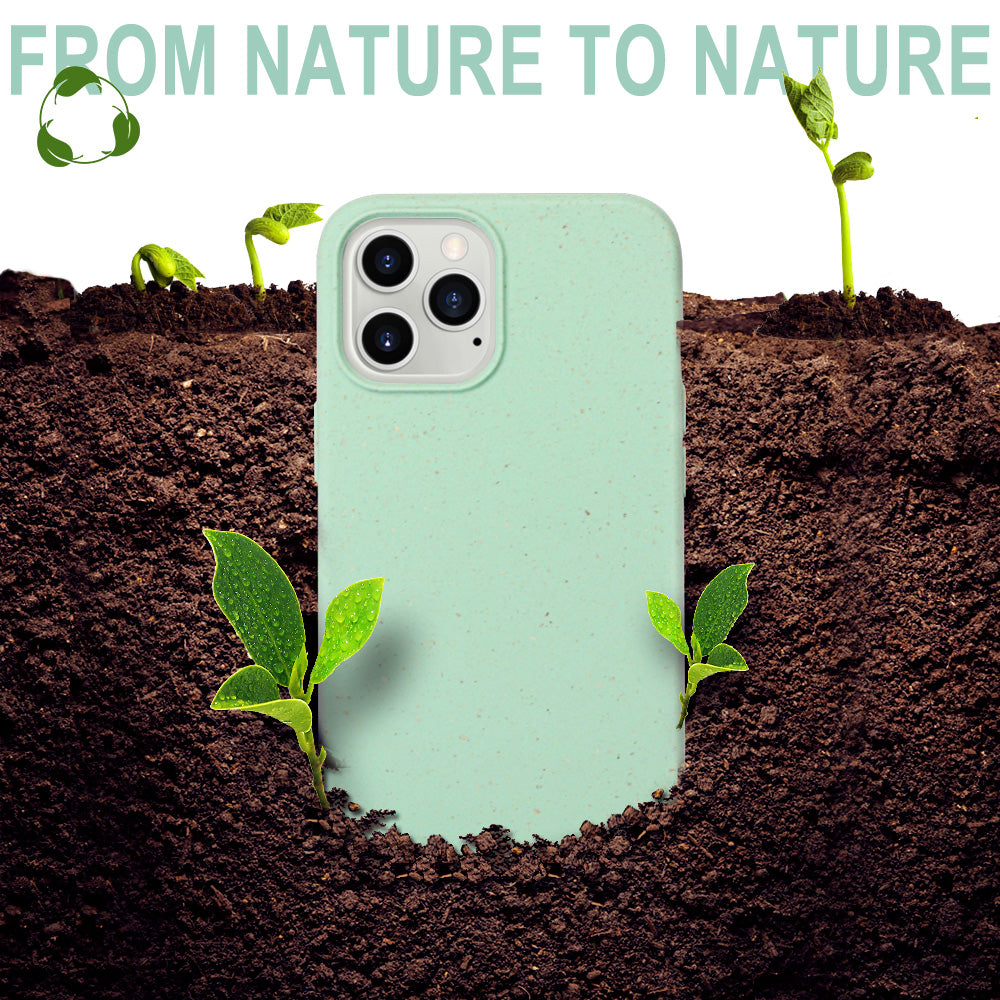 An eco-friendly crossbody phone case that combines functionality, style and sustainability.
Made of biodegradable and compostable material for less carbon emission and zero waste (plastic free).

Sturdy, durable, protective yet still slim for comfortable grip. 

With minimalist design and utility in mind, the adjustable strap comes with the case supports multi ways of carrying. You can totally wear it as a necklace case, crossoby case or even as waist pack case. 

In beige / black / mint green / purple

Raised edges for screen and camera for better protection

Compatible with wireless charging
About The Compostable Features
How to Decompose  Remove the lanyard, leave the case in your home composting pile or take it to a local commercial composting facility
How Long It Takes to Decompose PLA material normally takes 3-6 month to decompose to water and carbon dioxide with proper conditions. However the breaking-down time may largely vary due to the composting  environment
Compatible Size iPhone 13/ 13 Pro/ 13 Pro Max; 12 / Pro / Pro Max / Mini / 11 / 11 Pro / 11 Pro Max
In Sustainable Package
Returns
We offer 30 days free return / exchange. Details can be found out on Returns / Exchange page at footer.
Shipping
Free shipping worldwide to selective countries. Order is processed in 1-3 days. Shipping time is normally from 6-15 days after dispatch.
We suggest leaving your address in English for a smooth delivery.
You can track your order online with the shipping info we send to your email after the order is dispatched.
Please refer to the Shipping Page for more details.
Sustainable Packages
We are trying to minimize the use of plastic bag. 80% of the packages used so far are eco-friendly recyclable ones. And we are working on to increase this rate further. For sustainability purpose, we are keeping packages simple (no excessive packaging); but still decent and strong enough to withstand the impacts of long bumpy international shipping. Please pardon that for most of the products, there might not be individual plastic bag wrapped.
Gift Wrapping
If you need special gift wrapping or would like to include a gift card with a message, just reach out, support@himoda.com. Our customer support team would be happy to do this for you.
Compostable iPhone Case with Necklace / Crossbody Lanyard
INTERNATIONAL COUNTRIES WE SHIP TO
We ship worldwide; and offer free shipping (standard) to the following countries on orders $35+: 
US, Canada, Mexico
Brazil
UK, Ireland, Sweden, Germany, France, Italy, Spain, Belgium, Netherlands,  Poland
Australia, Japan, Korea, Singapore, Philipine. 
Shipping to other countries can be arranged with a freight cost. If you are in a country that is not covered above, please leave a message to support@himoda.com. We would be happy to find appropriate solutions for you. 
And we suggest all our customers to leave their address in English for a smooth shipping and delivery. 
LEAD TIME FOR ORDER TO DISPATCH
It usually takes 1-3 days to process the order and dispatch to the shipping forwarder. If you order is urgent, you can reach us via email to support@himoda.com for help. 
SHIPPING WAYS, RATES & TIME
We offer free shipping for orders over $35 to the above countries by using Fast Line shipping solution. For orders under $35, freight cost is US$1.99. 
Shipping time is usually 7-15 days (depending on your destination).  Please be noted that shipping time may be affected by factors like flight arrangement, weather conditions and local covid situation. Due to the lockdown of some areas and overcrowded parcels waiting for delivery, the local delivery time may result in delay. Local delivery is couducted by post network. For example for US orders, delivery is done by USPS. 
If you have not received the package in 15 days, please just contact us. We will check with the shipping forwarder for you. 
Expedited Shipping (DHL / UPS / FedEx / TNT) can be arranged with extra charge of $14.9. The shipping time is around 6-12 days in a  more stable manner. 
ABOUT FREE SHIPPING
We offer free shipping at this stage to the above mentioned countries for orders over $35. 
Shipping terms may change by time. It will be updated here on this page and on the Checkout page. 
TRACK YOUR ORDER
You can track your order online. After your order is dispatched, you will receive an email from us notifying the tracking information. You can get to the tracking web page  and put in the tracking number you received to follow your order.
Order Tracking page is here. 
SHIPPING ADDRESS CHANGING
Before the order was dispatched, you can change the shipping address by sending us your new address to support@himoda.com.
But if the order has already been dispatched, we can't change the address any more. However, you can still contact us about the issue, we will try our best to help you out.