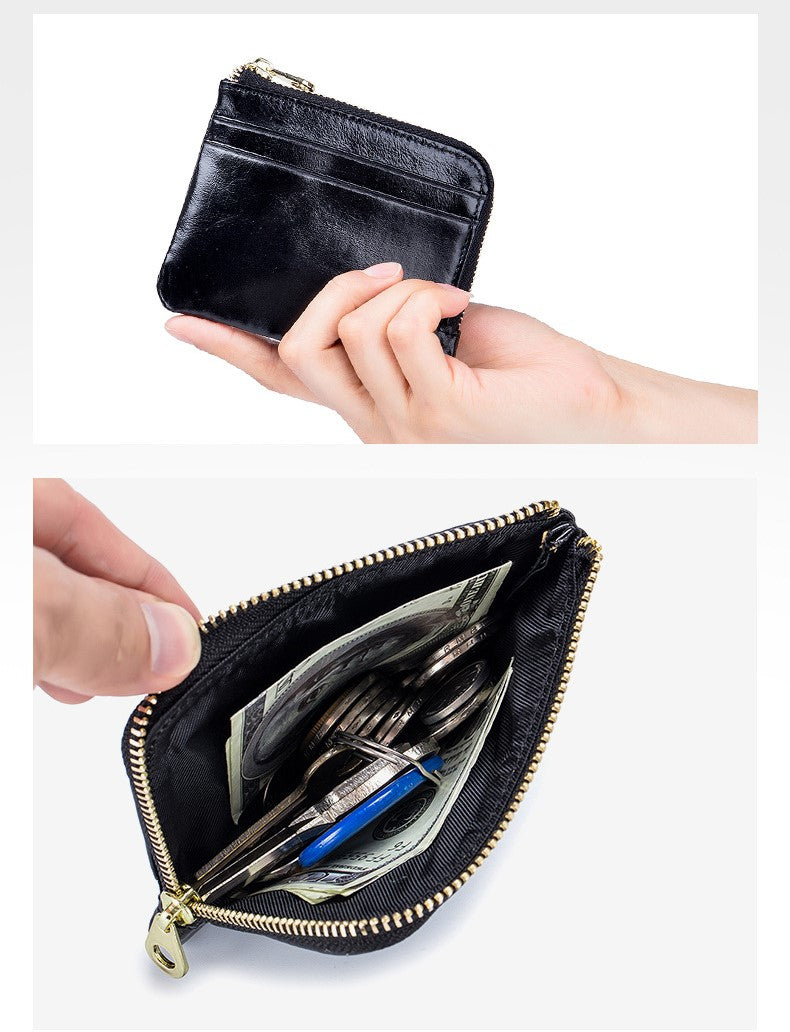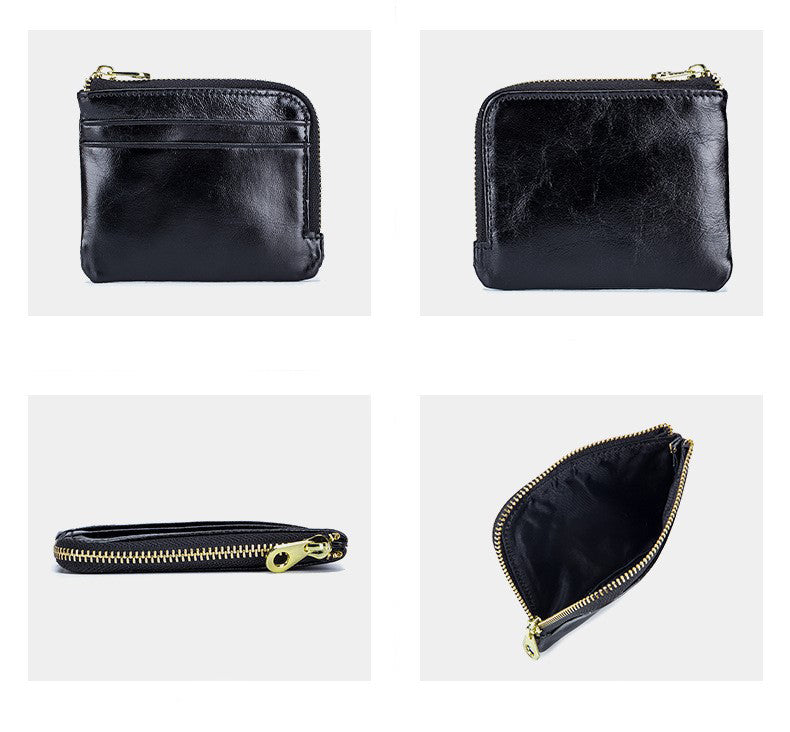 Small but mighty, this slim waxed leather coin purse is perfect for the modern minimalist.
Durable yet stylish, it's the ideal pocket-sized companion to carry your essentials — debit and credit cards, some coins, cash, & car / home keys.
Wth card holders on the outside, and zipped around closure for the spacious main compartment, this coin purse keeps everything handy and safe as you navigate your day in business or casual attire.
With five colors to choose from, it's perfect for both men and women.
Material: waxed cowhide leather

Style: slim coin purse / card holder

Color: black / brown / purple / blue / red

Detailing: gold-tone hardware

Structure: 2 card holders on the front, zipped main pouch for coins, keys, ID etc. 

Size: mini, 8.5*10 CM / 3.3 *3.9 inches

Weight: 50 G
❤ Makes a nice small gift
Returns
We offer 15 days period for returning / exchange after parcel delivered. Details can be found out on Returns / Exchange page at footer.
Shipping
Free shipping worldwide ( selective countries ) ; for orders over $35. $2.99 standard shipping for orders under $35. Order is processed in 1-3 days. Shipping time is normally 7-12 days to US after dispatch; 6-14 days to other countries.
We suggest leaving your address in English for a smooth delivery.
You can track your order online with the shipping info we send to your email after the order is dispatched.
Please refer to the Shipping Page for more details.
Sustainable Packages
We are trying to minimize the use of plastic bag. 80% of the packages used so far are eco-friendly recyclable ones. And we are working on to increase this rate further. For sustainability purpose, we are keeping packages simple (no excessive packaging); but still decent and strong enough to withstand the impacts of long bumpy international shipping. Please pardon that for most of the products, there might not be individual plastic bag wrapped.
Gift Wrapping
If you need special gift wrapping or would like to include a gift card with a message, just reach out, support@himoda.com. Our customer support team would be happy to do this for you.
Slim Waxed Leather Coin Purse
INTERNATIONAL COUNTRIES WE SHIP TO
We ship worldwide; and offer free shipping (standard) to the following countries on orders $35+: 
US, Canada, Mexico
Brazil
UK, Ireland, Sweden, Germany, France, Italy, Spain, Belgium, Netherlands,  Poland
Australia, Japan, Korea, Singapore, Philipine. 
Shipping to other countries can be arranged with a freight cost. If you are in a country that is not covered above, please leave a message to support@himoda.com. We would be happy to find appropriate solutions for you. 
And we suggest all our customers to leave their address in English for a smooth shipping and delivery. 
LEAD TIME FOR ORDER TO DISPATCH
It usually takes 1-3 days to process the order and dispatch to the shipping forwarder. If you order is urgent, you can reach us via email to support@himoda.com for help. 
SHIPPING WAYS, RATES & TIME
We offer free shipping for orders over $35 to the above countries by using Fast Line shipping solution. For orders under $35, freight cost is US$2.99. 
Shipping time is usually 7-12 days to US, 6-14 days to most other countries (depending on your destination).  Please be noted that shipping time may be affected by factors like flight arrangement, weather conditions and local covid situation. Due to the lockdown of some areas and overcrowded parcels waiting for delivery, the local delivery time may result in delay. Local delivery is couducted by post network. For example for US orders, delivery is done by USPS. 
If you have not received the package in 15 days, please just contact us. We will check with the shipping forwarder for you. 
Expedited Shipping (DHL / UPS / FedEx / TNT) can be arranged with extra charge of $14.9. The shipping time is around 6-12 days in a  more stable manner. 
ABOUT FREE SHIPPING
We offer free shipping at this stage to the above mentioned countries for orders over $35. 
Shipping terms may change by time. It will be updated here on this page and on the Checkout page. 
ABOUT CUSTOMS / IMPORT DUTIES AND CHARGES
For Retail Orders
To United States
There is no duties need to pay unless the order amount over $800. 
To EU Countries
We will cover the VAT for retailing orders.
For Wholesale Orders
Depending on the country / city, and order amount, there will be import tax charges. Please consult with your local related department for detailed info on this to take into account of the cost. 
TRACK YOUR ORDER
You can track your order online. After your order is dispatched, you will receive an email from us notifying the tracking information. You can get to the tracking web page  and put in the tracking number you received to follow your order.
Order Tracking page is here. 
SHIPPING ADDRESS CHANGING
Before the order was dispatched, you can change the shipping address by sending us your new address to support@himoda.com.
But if the order has already been dispatched, we can't change the address any more. However, you can still contact us about the issue, we will try our best to help you out.