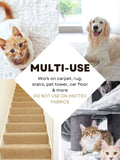 Introducing the Long Handle Carpet Rake for Pet Hair Removal, the ultimate cleaning solution for pet owners!
Stand to Scrape, No More Back Tense & Pain
We all love pets!
But pet fur? Not so much!
They are floating and embedded everywhere, particularly they can be stuck in the carpet deeply, making fur removal tough work.
Now with our Ultimate Carpet Rake for Pet Hair Removal, you can clean dog and cat fur like a breeze!
It is designed with care for you, saving you time and energy on hair removal.
Even you will find carpet scraping so satisfying as you will surely see amazing result!
It is a multi-functional tool that you can use it as:
a pet fur remover,

a lint remover,

a carpet scraper,

a carpet rake,

a rug groomer
Features:
Remove Stubborn and Embedded Pet Hair with Ease — This pet hair remover features a leading-edge rake design, allowing you to effortlessly remove dog or cat hair from carpets, rugs, stairs, pet towers, car mats & more. The larger bristle head covers more surface area, enabling you to clean your carpet more efficiently.

Long Handle & 3 Length Options — Designed with a comfortable long handle, this carpet scraper ensures easy access to hard-to-reach areas, while saving you from bending or crouching down to clean, no more back tense or pain. With versatile length options, it fits different heights; and you can clean different spaces with comfort. For instance, use the full-length handle (up to 47") to scrape fur on large carpet; use 1 or 2 handle poles for a shorter length to clean rug, car floor or cat tree.

Durable, Sustainable, and Reliable Fur Removal Tool — This carpet hair removal tool is designed with a solid structure, made of high-quality metal -- copper rake teeth and stainless-steel handle, ensuring long-lasting durability and built to handle frequent use.

Multi-Use and Works on Multi-Surfaces and Fabrics — Not only does this carpet rake work as an ultimate cat or dog fur remover for any household with pets, but it can also be used as a lint remover for different textiles (non-fragile, non-knitted fabrics); or as a rug groomer. It is a versatile and cost-effective solution for multi-purposes of cleaning work.

Reusable, Easy to Clean and Maintain — This pet fur remover can be easily wiped clean with a cloth after each use, ensuring that it remains in top condition for years to come. As a sustainable hair removal tool, it won't generate extra waste, saving you from afterwards cleanup and protecting our planet. Packed nicely in a recyclable package, it makes a thoughtful and functional gift for pet parents.
Specs:
Material: copper rake teeth, stainless steel handle
Lengths of handle: adjustable by installing 1 / 2 / 3 handle poles, up to 47" height
Rake Width: 22 CM / 8.7"
Net Weight: 365g
Returns
We offer 15 days period for returning / exchange after parcel delivered. Details can be found out on Returns / Exchange page at footer.
Shipping
Free shipping worldwide ( selective countries ) ; for orders over $35. $2.99 standard shipping for orders under $35. Order is processed in 1-3 days. Shipping time is normally 7-12 days to US after dispatch; 6-14 days to other countries.
We suggest leaving your address in English for a smooth delivery.
You can track your order online with the shipping info we send to your email after the order is dispatched.
Please refer to the Shipping Page for more details.
Sustainable Packages
We are trying to minimize the use of plastic bag. 80% of the packages used so far are eco-friendly recyclable ones. And we are working on to increase this rate further. For sustainability purpose, we are keeping packages simple (no excessive packaging); but still decent and strong enough to withstand the impacts of long bumpy international shipping. Please pardon that for most of the products, there might not be individual plastic bag wrapped.
Gift Wrapping
If you need special gift wrapping or would like to include a gift card with a message, just reach out, support@himoda.com. Our customer support team would be happy to do this for you.
Ultimate Carpet Rake for Hair Removal
INTERNATIONAL COUNTRIES WE SHIP TO
We ship worldwide; and offer free shipping (standard) to the following countries on orders $35+: 
US, Canada, Mexico
Brazil
UK, Ireland, Sweden, Germany, France, Italy, Spain, Belgium, Netherlands,  Poland
Australia, Japan, Korea, Singapore, Philipine. 
Shipping to other countries can be arranged with a freight cost. If you are in a country that is not covered above, please leave a message to support@himoda.com. We would be happy to find appropriate solutions for you. 
And we suggest all our customers to leave their address in English for a smooth shipping and delivery. 
LEAD TIME FOR ORDER TO DISPATCH
It usually takes 1-3 days to process the order and dispatch to the shipping forwarder. If you order is urgent, you can reach us via email to support@himoda.com for help. 
SHIPPING WAYS, RATES & TIME
We offer free shipping for orders over $35 to the above countries by using Fast Line shipping solution. For orders under $35, freight cost is US$2.99. 
Shipping time is usually 7-12 days to US, 6-14 days to most other countries (depending on your destination).  Please be noted that shipping time may be affected by factors like flight arrangement, weather conditions and local covid situation. Due to the lockdown of some areas and overcrowded parcels waiting for delivery, the local delivery time may result in delay. Local delivery is couducted by post network. For example for US orders, delivery is done by USPS. 
If you have not received the package in 15 days, please just contact us. We will check with the shipping forwarder for you. 
Expedited Shipping (DHL / UPS / FedEx / TNT) can be arranged with extra charge of $14.9. The shipping time is around 6-12 days in a  more stable manner. 
ABOUT FREE SHIPPING
We offer free shipping at this stage to the above mentioned countries for orders over $35. 
Shipping terms may change by time. It will be updated here on this page and on the Checkout page. 
ABOUT CUSTOMS / IMPORT DUTIES AND CHARGES
For Retail Orders
To United States
There is no duties need to pay unless the order amount over $800. 
To EU Countries
We will cover the VAT for retailing orders.
For Wholesale Orders
Depending on the country / city, and order amount, there will be import tax charges. Please consult with your local related department for detailed info on this to take into account of the cost. 
TRACK YOUR ORDER
You can track your order online. After your order is dispatched, you will receive an email from us notifying the tracking information. You can get to the tracking web page  and put in the tracking number you received to follow your order.
Order Tracking page is here. 
SHIPPING ADDRESS CHANGING
Before the order was dispatched, you can change the shipping address by sending us your new address to support@himoda.com.
But if the order has already been dispatched, we can't change the address any more. However, you can still contact us about the issue, we will try our best to help you out.