7 In-style Hats to Keep You Warm This 2021 Winter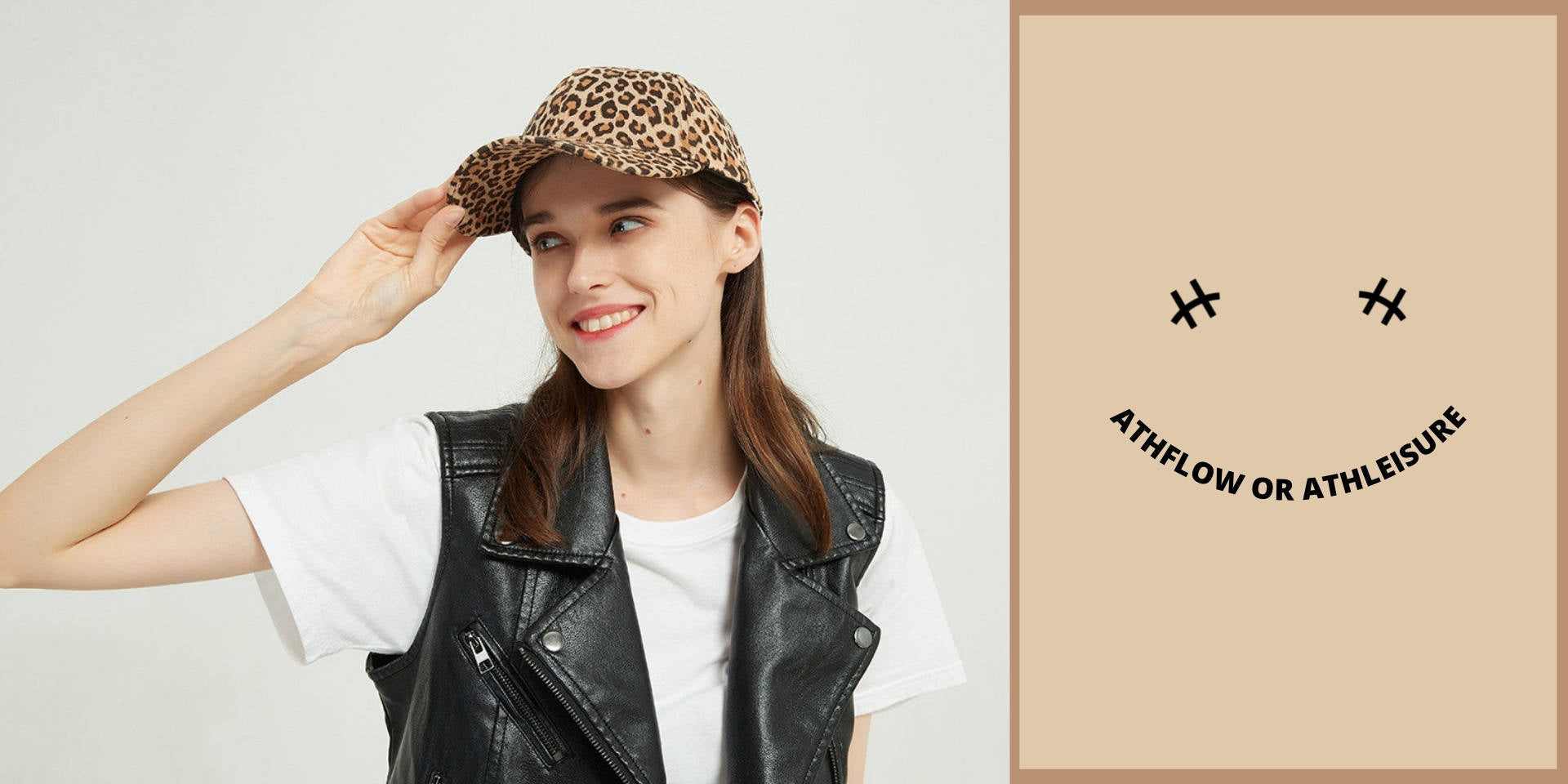 One of the accessories that certainly make a statement about the outfit is the hat.
As style additions, hats have been present on the fashion market for a very long time. Even fashion history puts hat high up on a ladder of women's necessity accessories. Back in the time, a woman's look and outfit were not complete without the presence of a hat. Back then, hats carried that special vibe that added a dose of femininity and elegance. With time, fashion evolves. Hat has now become more of a personal choice.
There are tones of hat styles out there for options. Once a while, there would be a new trend. But with trends come and go, time is always on the side of classic pieces, like baseball cap, bucket hat, beret. These hat styles may date back dozens of decades and beyond, but they remain the trendy pieces by twist some modern details. 
Here at HIMODA, we don't simply follow trends; rather we pursue classics. We want our accessories to company you for many years to come.
With this premis, we have launched our collection of hats for this Fall / Winter season, including the timeless fashionable styles, baseball cap, bucket hat and beret hat.  Each hat is unique and chic in its own way, you only need to pick up the one that states your style.
Now let us take you through 7 most popular choices that will elevate your style effortlessly.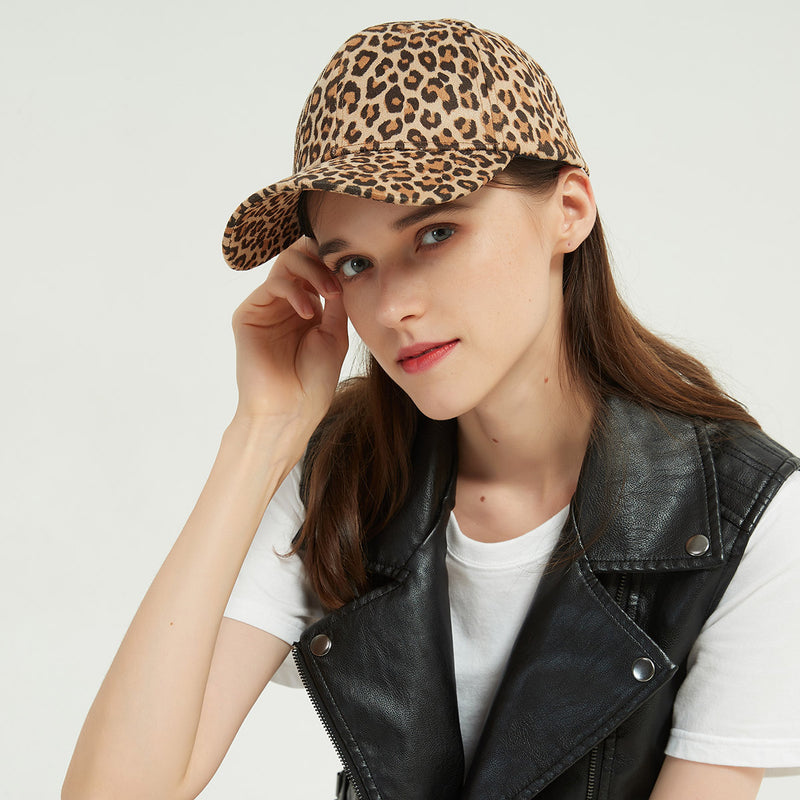 Nothing says fashionability and stylishness like the trendy baseball hat in leopard print.
Baseball cap has been one of the most popular and long-present choices in different fashion branches. It was first noticed as a part of the baseball uniform of the baseball players. It instantly became a hit, making the baseball cap a part of the regular sports gear of many other sports.
The fashion industry saw this a wonderful opportunity to make it a more fashion-forward accessory. Up to today, you can wear baseball cap to pair with everything, even suits. (yes, if you have seen Celine's runway, you would know how it is a must have for athflow trend lovers)
When combine baseball cap with leopard print, it creates a wild and statement fashion piece. The classic brown leopard color makes the hat a perfect choice for fall and winter. Style it with some oversized puffer jacket or coat, and let it dominate your look. This leopard cap comes in two color options, white and brown. Pick the one that will best flaunt your personality and goes with most of your wardrobe.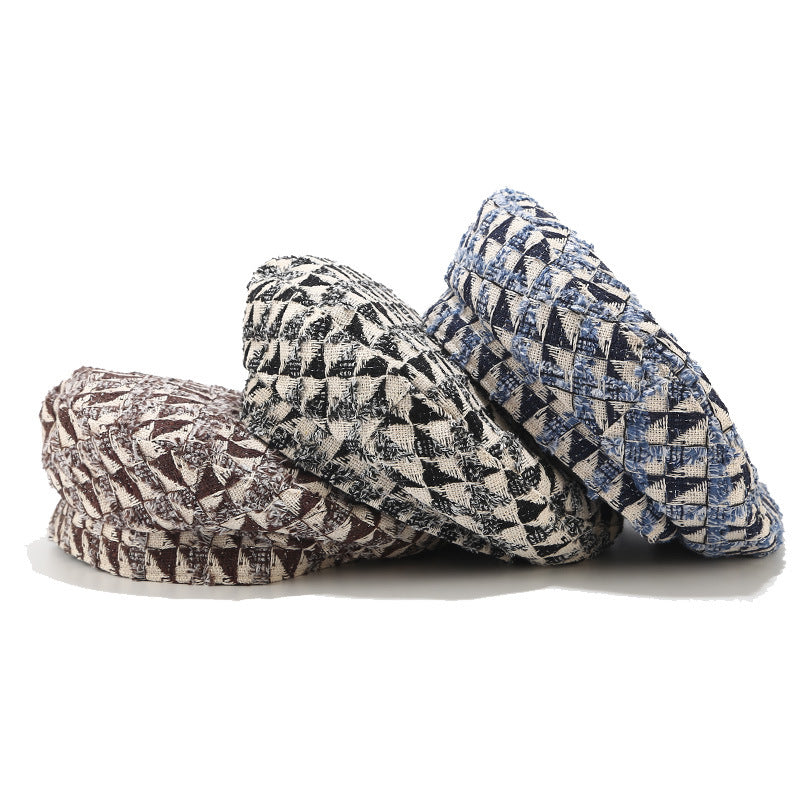 Checkered pattern is certainly one of the timeless fashion staple. This beret hat combines tweed material with check pattern and raw hem details. 
Comes in 3 gorgeous colors, coffee brown, black and denim blue. Each carries its own chic temperament.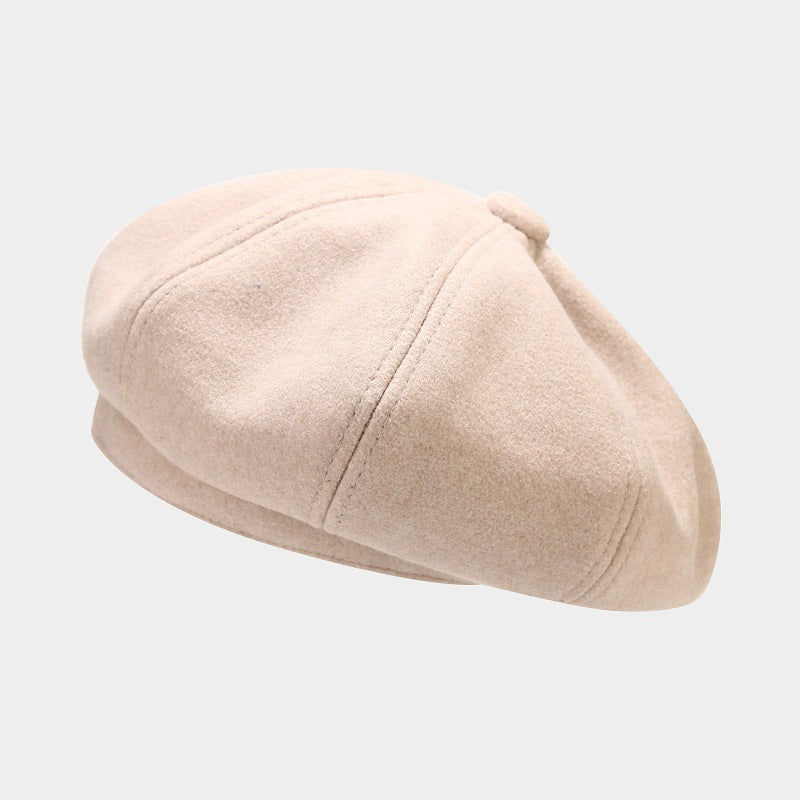 The winter beret carries a special fashionable dose. Those who follow fashion closely know that beret is the French girl's favorite hat. Since it appeared many decades ago, until today, beret has seen several changes in style and the way it is worn. Besides the style part, beret is also a warming headpiece now.
For the upcoming fall/winter season opt for a woolen beret in basic plain color. It is a wonderful choice that is both stylish and practical; additionally, it pairs well with other accessories like scarves and gloves.
Another very popular '90s trend that has resurfaced on the modern-day fashion scene is the winter bucket hat for ladies. The first impressions of the bucket hat as part of the modern-day accessory were exquisite. Now bucket hat is a common go-to piece that can be seen absolutely everywhere, throughout seasons from spring to winter.
For this 2021 fall / winter,  you will find some cool, or elegant pieces at our winter bucket hat collection.
The fluffy fabric is no doubt a desired hat for cold winter. Especially that it also provides the utmost softness and coziness that you would never want to take off.
This stylish bucket hat comes in several different colors. Each is particularly designed to feature a color combination of two similar hues, making the fashion temperament even stronger.
Granny Square Crochet Bucket Hat for Winter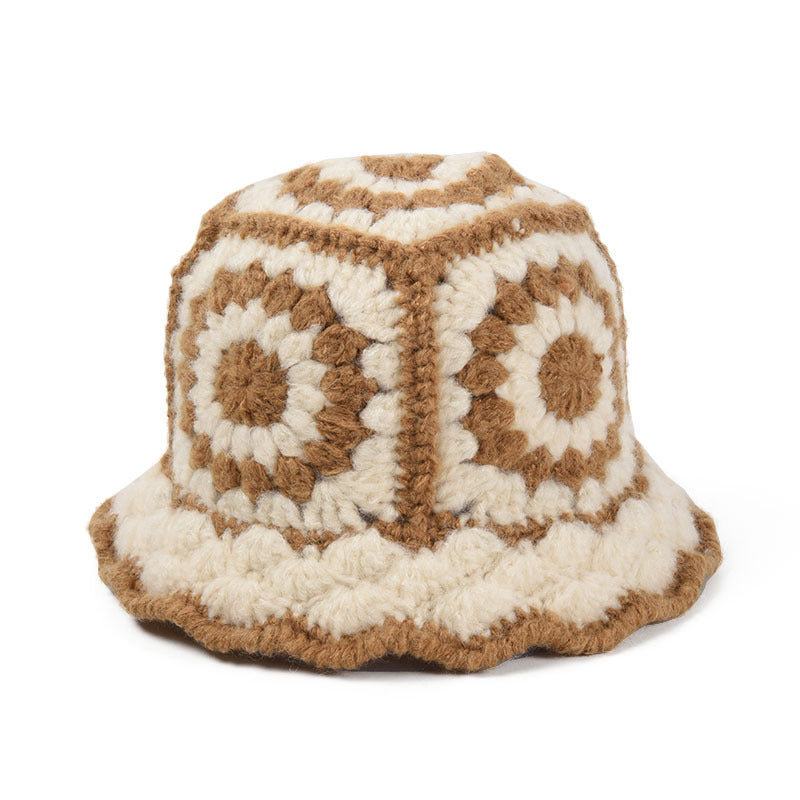 The square design of the crochet bucket hat will instantly deliver a retro vibe and bring back the nostalgia of your grandmother's vintage hats. Made out of soft fluffy material and featuring the vintage design, this is a hat for those who would like to add vibrant vibe to their outfit. Coming in several different color options, you may find each one of them super lovely and undeniable.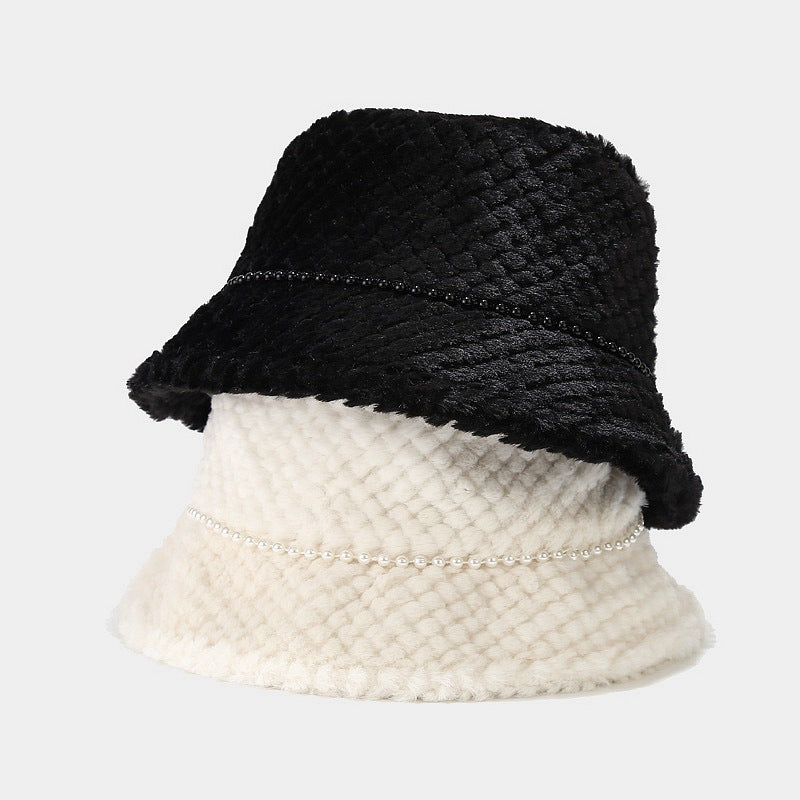 Ultra-feminine, chic and stylish, this furry bucket hat is the elegant addition to girls who simply love classic styles and elegant pieces. Perfectly designed to express grace, this hat features special detail – pearls. A line of pearls goes around the brim of the fluffy hat, making it look extra stylish.
There are three colors to choose from, milky white, beige, and black, all classic and easy-to-pair options.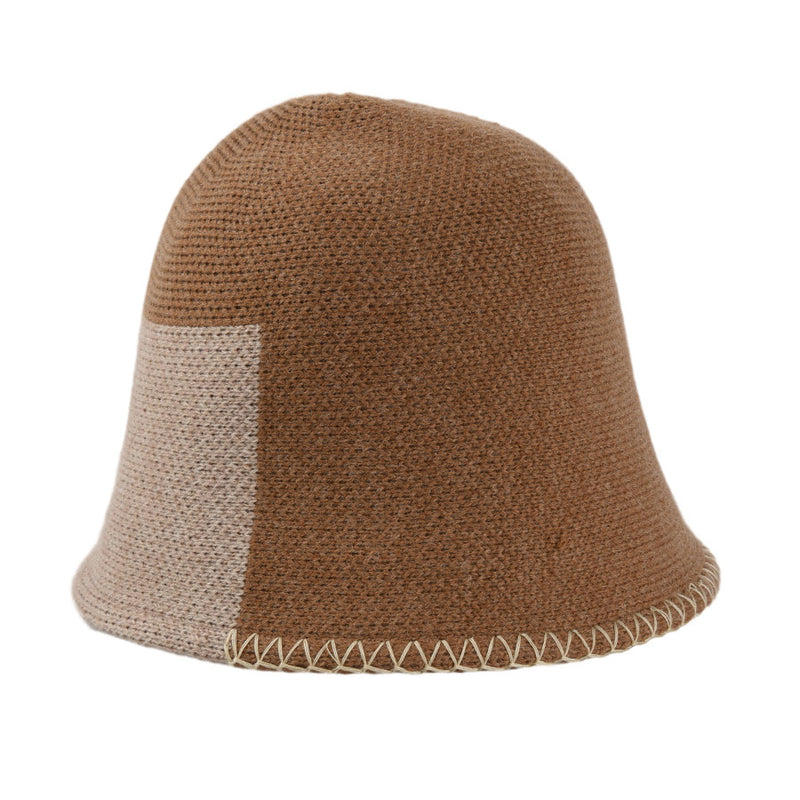 Slightly different in the design, this knitted bucket hat is a deeper style with no brim. It features curvier lines and a softer appearance.
Although the hat is patter-free, it is no-boring piece for detail lovers. there is a small part of the hat that is knitted in a different color, pastel beige.  It just effortlessly creates a cool yet chic look. 
Hat is a master up-style fashion piece for fall and winter seasons.  No matter you are a '90s and '00s trend pursuer or the modern athflow style lover, be sure to check our entire winter hat collection for sale at Himoda.com and stock up on some pieces that will keep you warm, stylish, more importantly keep  you you through the cold.