Bucket hat in 2021 – The Comeback of the Retro Fashion Trend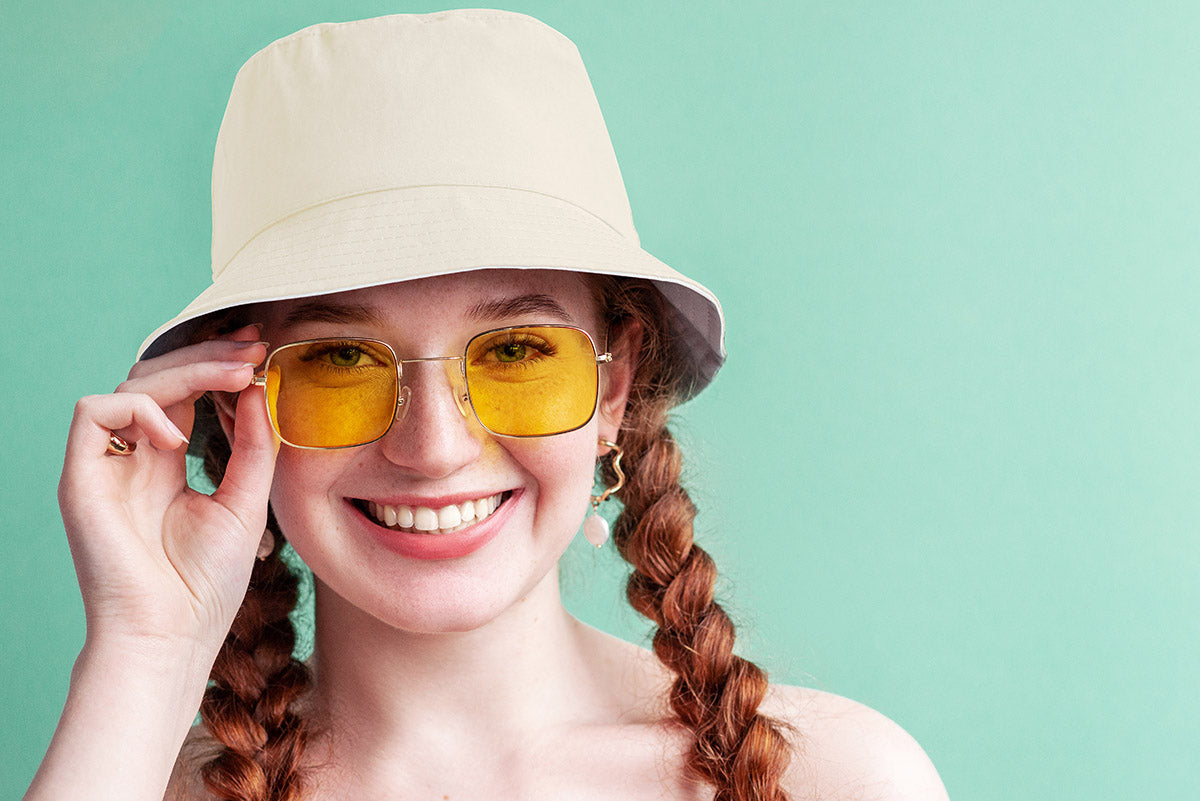 2021 has shown to be a year of fashion revivals. The fashion scene has witnessed so many different trends that are making a comeback, and they have been widely accepted. One such trend that has made a huge dominance and influence both on the fashion market and the fashionistas is the bucket hat.
Bucket hat in 2021 comes into a revived and revamped version. Its versatiliy for styling and complimenting shape have been the most appealing elements.
Fashion icons and celebrities were quick to try it out and generate a bigger buzz. Although with a retro style background, bucket hat has gained its model charm for young generationssss. 
To celebrate the classic staple and innovate with a more vibrant vibe, here at Himoda we launch a whole collection of a variety of styles that you will find flattering and exited to try for your personal styling.
Most bucket hat are unisex style. Whether you are looking for a women bucket hat or a men bucket hat, our varied collection has everything for everyone.
Before we go into details of our styles, let's see first what makes the bucket hat so trendy and interesting for the fashion industry? Here is everything you need to know about it!
What is a bucket hat?
The bucket hat has also been called a fisherman's hat. Today, it is an iconic accessory, whose origins date back to the 1940s. By the 1990s, this hat was already considered a glamorous piece that will add to the glow-up of one's outfit. As fashion developed, bucket hats were the first part of men's wardrobes in the 90s. Inspired by those times, later, they became a unisex piece.
Bucket hat trend 2021
Modern times have shown that the bucket hat has been present in the fashion scene for a few years now. The first more important fashion moment was on the Chanel spring/summer 2018 runway, and later in Dior's autumn/winter 2019  collections. Through these two important moments, it has soon reemerged on the runways and Instagram, making it a trend and fashion obsession.
The 2021 trend of the bucket hat has a lot to do with its practicality, fashionability, wearability, and versatility. The style of the bucket hat is so easy, making it super suitable for styling and wearing.
Currently, the most popular is the '90s style, which puts the bucket hat as a finishing touch of the streetwear look. The bold and eye-catching prints are more than enough to add a touch of style and personality to any look and outfit.
How to wear a bucket hat?
As mentioned above, the bucket hats carry that easy and nonchalant aura. They go well with every face shape and size and can be best styled into the casual or chic streetwear style. They are very flattering, especially now, when the trends put them on as one of the most popular headwear.
So, if you are new to this whole bucket hat fuss, here are several different ways how you can style and wear the Himoda bucket hats.
Animal prints have always been popular on the fashion scene, especially flaunting the leopard and snakeskin print. However, for the bucket hats, one very popular option is the cow print. Although many would consider it not co-chic hat print, it is a choice that you can really rock.
The best way to do so is to let the hat stand out with its print, and be the only piece that will pop up. Try styling it with an oversized white shirt, slouch denim jeans, and chunky sneakers. It is an effortless summer-ready outfit!
The reversible bucket hats are a total hit, especially because you get 2 in 1 hat. And if the sides are as adorable as this one, then, you will never want to part with your bucket hat.
The interesting daisy print offers freshness and playfulness in the look, and if you somehow get tired of it, you can easily switch to the other, monochromatic side. This is the type of bucket hat that will instantly bring you back to your happy childhood days. Style it with a dress with a similar daisy print or loose short and denim mini skirt.
So far, you already know that fashion trends put sparkly and shimmery details as an everyday wear choice. The same refers to the bucket hat too. What will bring the glamorous vibe on the street style better than such a shiny hat? Coming in two options, black, and silver, this hat can easily be added to some silky slip dress. The street style look will definitely be eye-catching.
The acceptance of the variety of styles comes also in the form of this retro bucket hat with strings ties. If you are feeling inspired by the latest Jungle Cruise movie, or just want to add a new vibe to your style, this hat will definitely help you achieve that.
Denim is a fabric that never goes out of style, and this fashion presence has transferred onto the popular bucket hat too. Coming in several denim colors, this bucket hat features a brim in another color, making the bucket hat a perfect everyday staple accessory. As for the styling, with the denim, the options are pretty endless.
For more bucket hat options, just check the HIMODA hat collection.
You can even make a personalized one with your initial on the hat. This also makes a wonderful gift for your beloved ones. 
Personalized Bucket Hat with DIY Embroidered Initials 
Bucket hat is really for everyone! It is never censorious of the face shape or personal style.
It is particularly extrodinary for athflow or street style. It goes well with t-shirts, hoodie, jumpsuit, suits and even dress. 
Find your own pick, incorporate it in your style, or just go overboard and experiment with something new. You will simply fall in love with it.