The 15 Best Straw Bags to Refresh Your 2021 Summer Look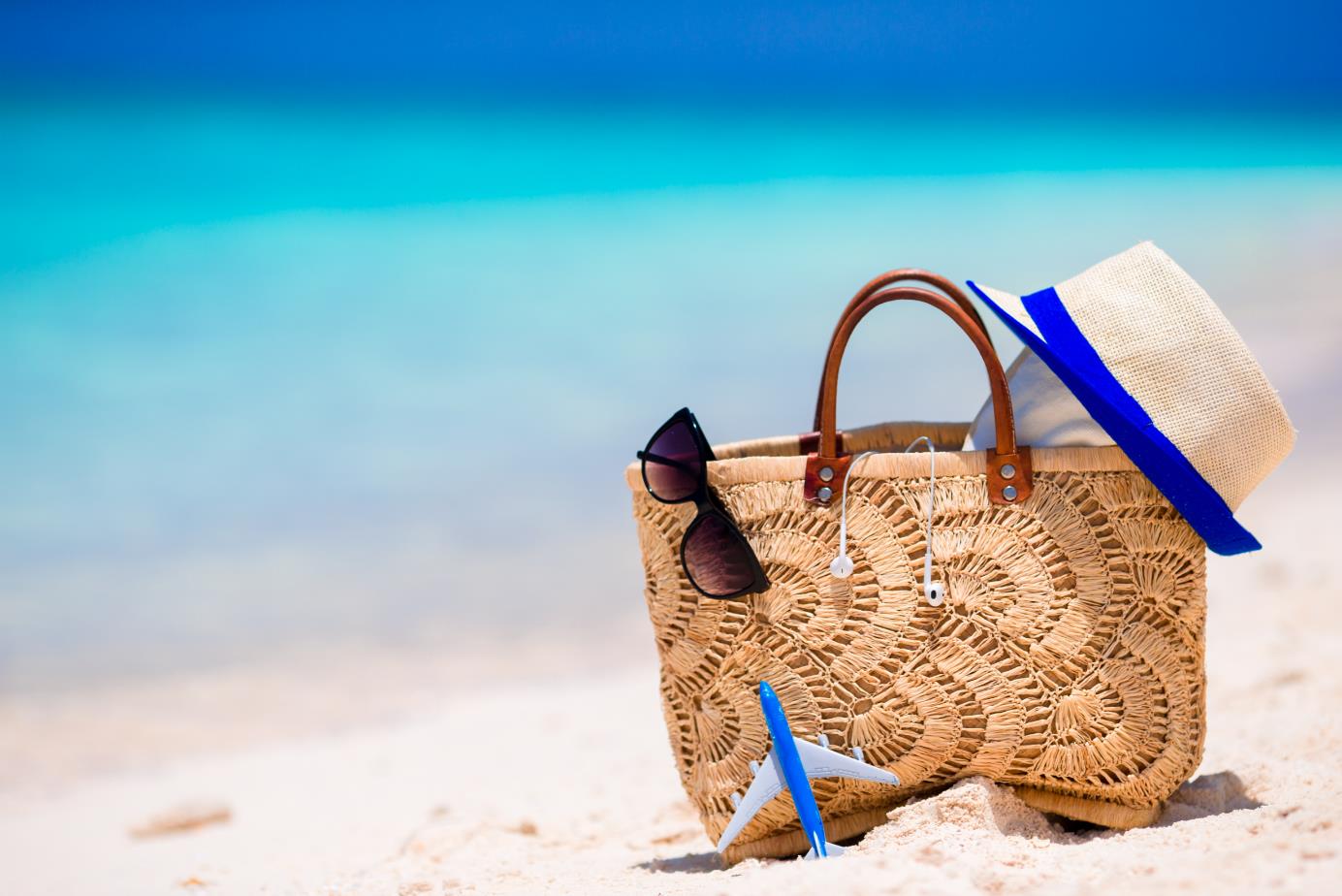 Summer of 2021 is already in the corner and you know what that means: time to refresh your seasonal look.
A timeless classic that never really goes out of style, the straw bag is coming back in 2021 in a big way, particularly with the leading and pushing of the luxury brands like Loewe, Fendi, Jacquemus, Prada, Saint Laurant and more. 
Credit it to the new emphasis on comfort and casual, or chalk it up to the bag's enduring utility and holiday look ( well, come on, who doesn't like the holiday vibe, particularly after what we've been through due to the pandemic); either way, the straw tote bag is here to stay.
Here are 15 of our favorites available right now, ranging from a straw bag mini to a large straw hobo bag, there's sure to be something for everyone. 
Large Raffia Straw Hobo Bag 
Arriving in camel tones, the large Raffia Straw Hobo Bag is perfect for work and daily casual outfit pairing. With its sizable capacity, you can put almost anything you need for a time out. It is super-light and durable. Credit to the flexibility of the raffia straw,  this bag is also foldable, can be easily packed in a luggage for travelling. With a detachable tassel charm, it adds a bit boho vibe.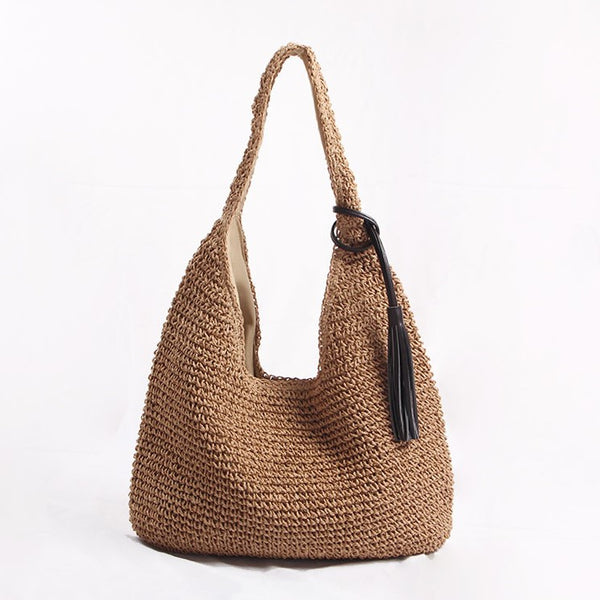 Round Straw Tote bag with Leather Strap
When it comes to straw bag, the round-shape straw tote must be on the list. This circular piece in beige is in minimalist design, with camel brown color leather cross-body strap as the color-block detailing.  With the perfect medium size, no matter you use it as a handbag or carry it on your shoulder, crossbody, it just simply comlete your look in its effortlessly chic way.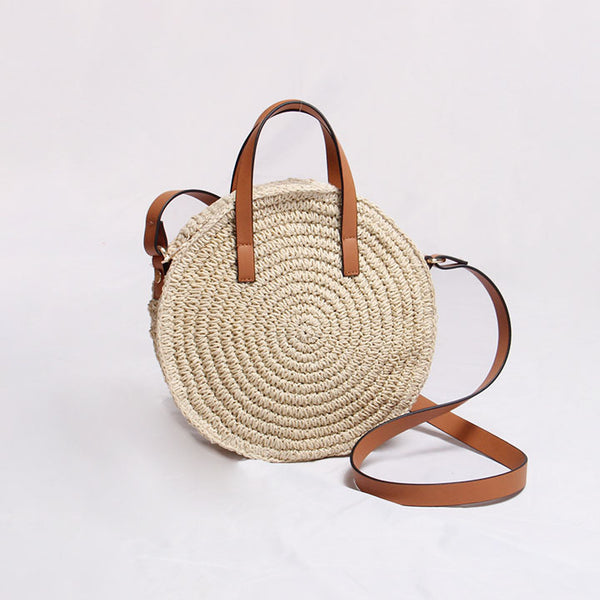 Handmade Small Woven Straw Bucket Bag
If you are a bag mania, you would know how many fans the bucket bag style has. Combining this classic bag shape and the primitive straw material, this cute straw bucket bag is a hot catch in summer. Available in ivory or beige, both are nuetral easy-to-style colors. The gold-tone metal handle matches perfectly with the straw color, and adds a premium touch to the look.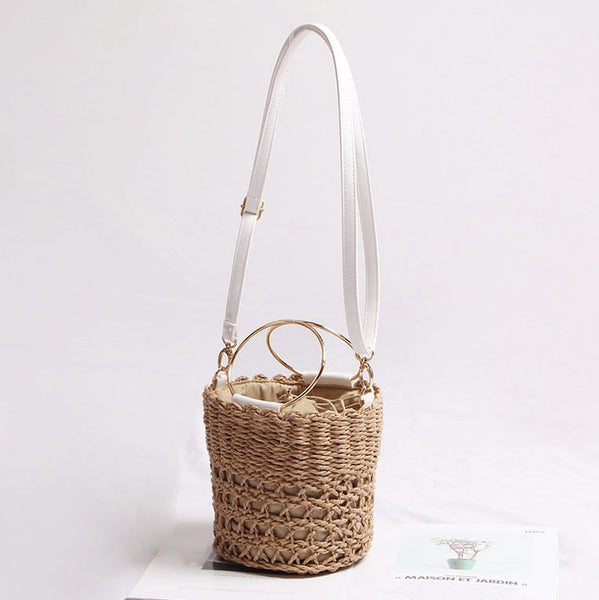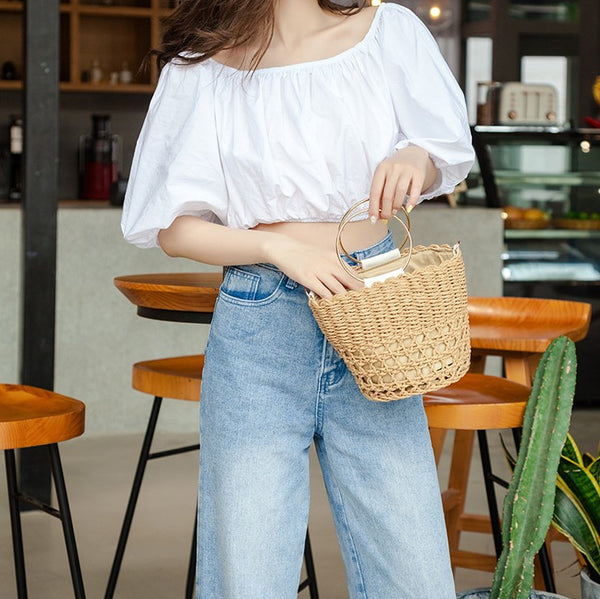 Mini Straw Rattan Bag with Buffalo Plaid Bow
Adorned with a cute bow in classic black and white buffalo plaid,  this mini straw tote is a handy companion in summer. Although it is small, it shall meet your everyday needs with just the essentials.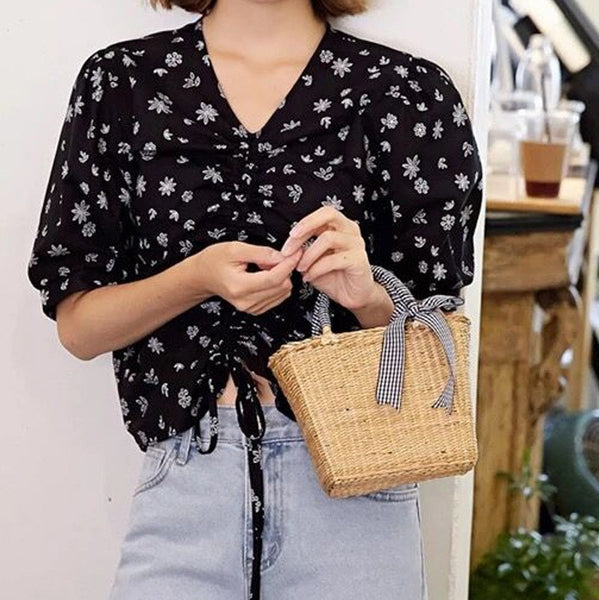 Boho Straw Tote Bag with Feather Detail
Bogo style is like the most natural inspiration for straw bag design. This gorgeous fairytale-like straw bag is embellished with feather in white or pink, adding a fascinating temperament. Comes in light or dark beige options. Important note here, never let its appearance fool you as it is more a bag of utility than a tote just being pretty.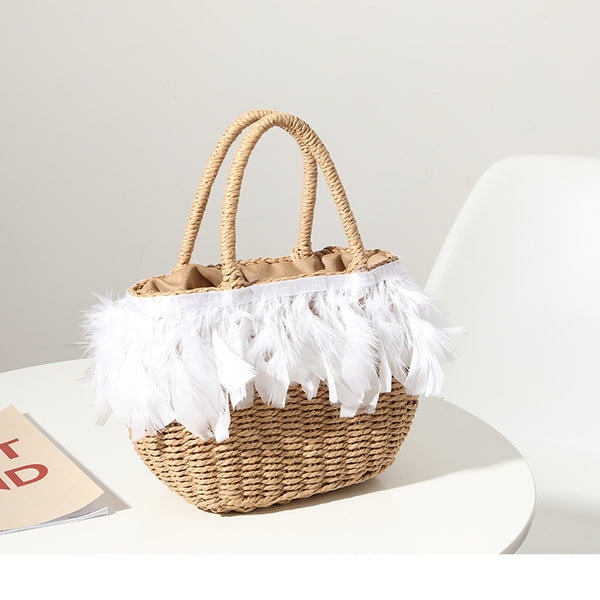 Beach Tote Bag with Shell & Tassel Detail
Another boho style straw bag with shell and tassel decor. With the versatile straps, you can wear this bag as a handbag or shoulder bag. If you love the sea and the beach, then you definitely cannot let this bag go. tWith its distinct beach vibe, you will feel like beach is just alongside you even though you are trapped in the middle of the concrete city.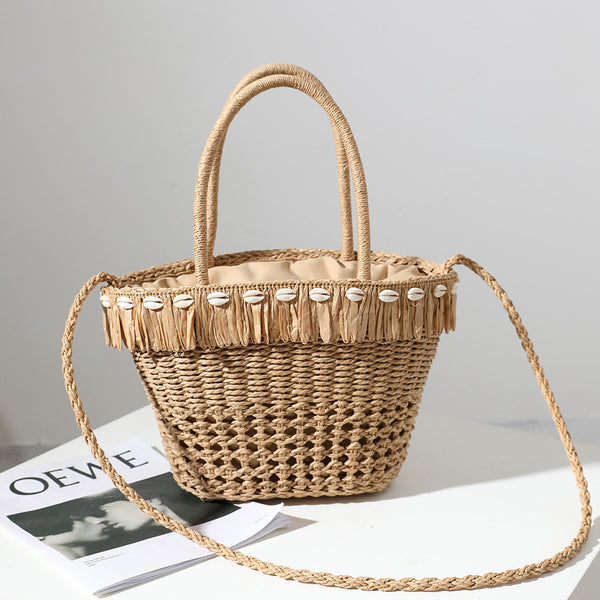 Half-moon Mini Straw Bag
Who doesn't like macaron? And we can keeep away from the cutiest and sweeetest macaron colors? Well, we have the confession here. We just love love the sweet and its summery colors. This mini half-moon shape straw bag comes in beautiful macaron colors, beige, black, blue, pink, and yellow. If you like to wear white, beige or bright colors in summer, then this bag is for you. Choose a color that matches with your favorite outfit to shine in the crowd. It will certainly bring you a joyful mood whenever you lay your eyes on it.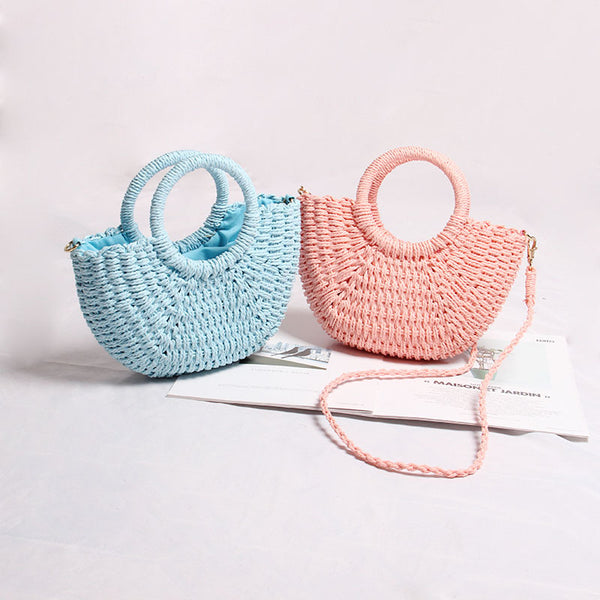 Medium Straw Tote Bag with Pom Poms
Do you know that Pantone announced the color of the year 2021? One of the pair colors is the bright yellow for its symbolization of hope, positivity and love. This funnel-shape straw shoulder bag comes in this illuminating yellow and mint green colors. With pom-poms as the charm for the bag. The straw is hand woven in short stripes, adding a more vibrant look for summer. Dual ways to carry with both handheld straps and the long shoulder straps.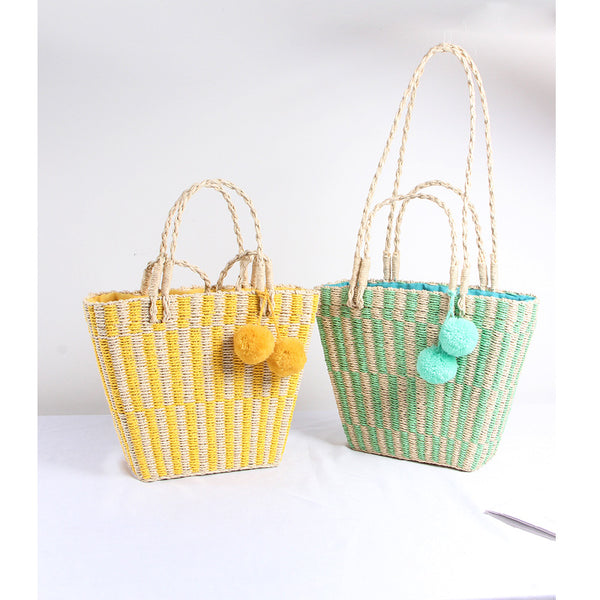 Striped Straw Shoulder Bag
This underarm straw bag is a classic piece with its simple soft bucket shape and the striped detailing. In camel and black, this dual-tone bag is perfect for this summer but also the fall as well. With the ductile straw material, the bag is foldable; makes it a perfect travel companion as well.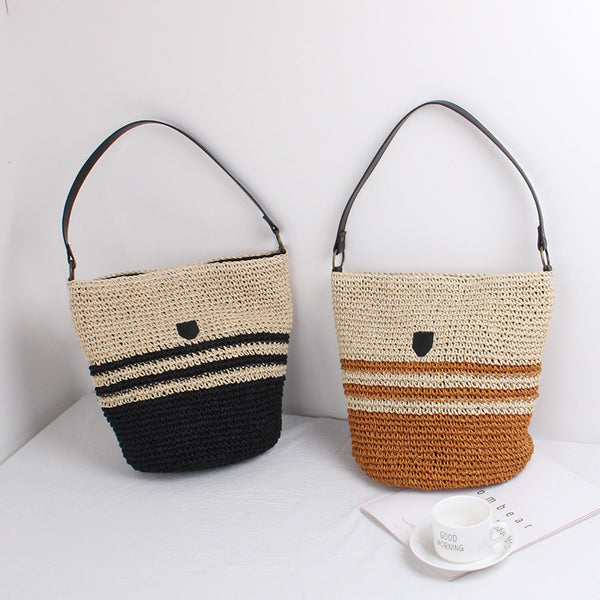 Mini Straw Bucket Bag with A Smile
This happy-face iteration of the straw bucket bag comes in khaki, black, and yellow and features a smiling face. A great statement bag for people with a more laid-back approach to styling. Sometimes a smile is all we need to pull together when we struggle through a hard time. 
It makes a perfect gift for someone you love as well. Just a joyful message with love.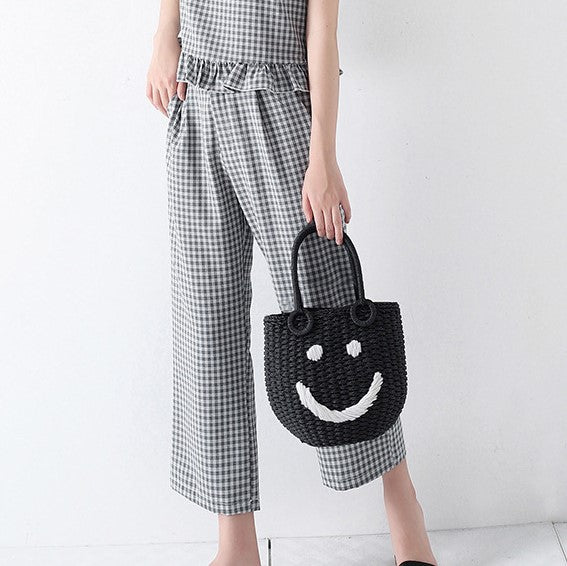 Straw Backpack with Tassel
This chic backpack comes in beige and ivory bag, with a simple fringe along its enclosure that belies its utility and focus on functionality. Medium size, big enough to hold all essentials you want to put. As it is light-weighted, it could be a nice choice as travel bag as well. Just ease your trip on the way.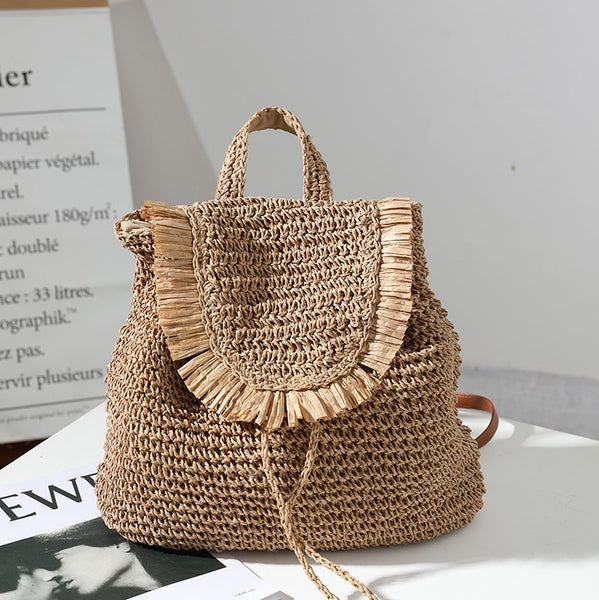 Straw Fanny Pack with Belt Buckle
Fanny pack has gained huge popularity in casual street wear with its cool, athleisure temperament. A stylish waist bag or fanny pack is no doubt a must-have for young fashion lovers. When the style meets raffia straw, you just get stunned by its effortless chic and beauty. The natural straw beige color makes the bag versatile to style with most of your outfit.